Get fit, lose weight & build muscle like never before...


Maximize your fat burning/muscle building potential and workout anywhere you want with cutting-edge resistance band technology!
• Free workout plans and videos

• Increased acceleration with Linear Variable Resistance (LVR) training

• Continuous tension providing a superior workout

• Reduced injury & a more complete workout with tension as opposed to momentum

• Joint friendly using tension rather than gravity

• 90 Day Money Back Guarantee & 2 Year Warranty
Try Gorilla Bow resistance training and optimize your health and performance!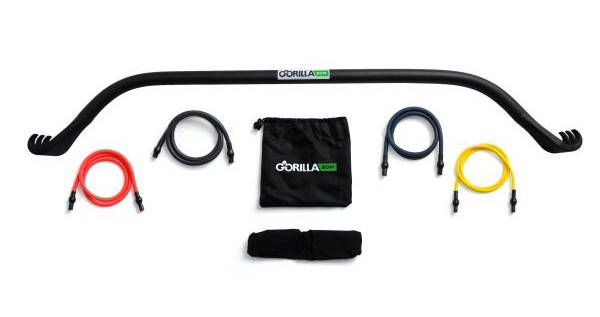 Work every major muscle group with cutting edge resistance band technology...
Gorilla Bow is a revolutionary home and mobile gym that provides a full body workout with one simple, ultra-portable piece of equipment.
Based on the ancient weapon, the bow, this Aircraft aluminum crafted design is capable of handling over 300 pounds of tension, so you can get fit and build muscle with dozens of exercises that work the whole body with just one piece of kit.
Includes

FREE

online

Gorilla Bow

exercises & workouts!

What our customers are saying...
Henry H " Not getting any younger    Just turned 57, limited on what I can do. Have started out light with a few exercises and can feel the effects. I highly recommend this. Looking forward to the progression . 
Dyson C  " Amazing!! I love everything about the Gorilla Bow. I was a bit worried about doing squats with it, but that was foolish, as the bands didn't tear and the next day I could barely walk. I also love that it's not a clunky piece of equipment that is difficult to store and takes up space. I slide it into the hall closet and no one sees it. "
Kyle R   " BUY IT! Bought this a few weeks ago, and it is incredible. Mainly use for busy weeks when I can't get to a gym, but can be used as your only workout equipment. I work in the car business and find time hard to wake up early and go to the gym. With this, I can workout from home and achieve the same results. Thank you for advertising on Facebook or I never would have discovered this beauty. " 
These are just a selcetion of the many verified reviews taken from our website.
With our no risk Guarantee and total fitness promise, you can get in shape and achieve your goals or get your money back.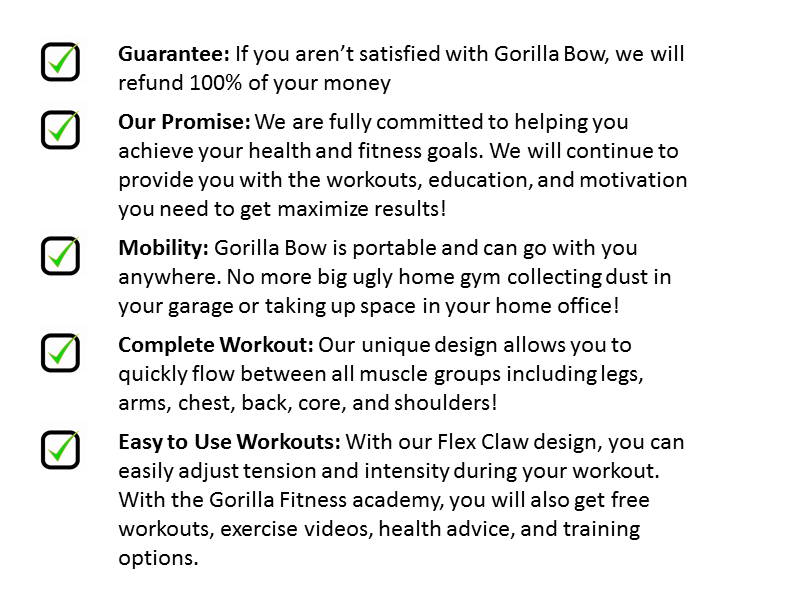 Includes

FREE

online

 

Gorilla Bow

 

exercises & workouts!

PLUS

90 Day money back Guarantee & 2 Year Warranty